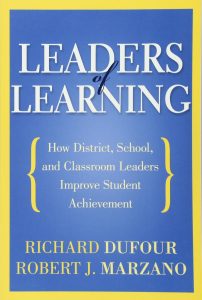 In their first book together, Dr. DuFour and Dr. Marzano have combined their passions to articulate how effective leaders foster continuous improvement at the district, school, and classroom levels. The book focuses on district leadership, principal leadership, and team leadership, and addresses how individual teachers can be most effective in leading students--by learning with colleagues how to implement the most promising pedagogy in their classrooms. The authors argue that no single person has all the knowledge, skills, and talent to lead a district, improve a school, or meet all the needs of every child in his or her classroom. Instead, it will take a collaborative effort and widely dispersed leadership to meet the challenges confronting schools.

In this must-have follow-up to his landmark best-seller Phonics From A to Z, Wiley Blevins explains why quality decodable texts are an essential early learning tool and how to distinguish the good from the bad. This resource offers practical lessons and routines for using decodable texts to build children's phonics and fluency skills, as well as tips on selecting strong decodable texts and what to do if you don't have any. Includes fun and engaging reproducible decodable mini-books.

Early childhood learning is a critical launchpad for every student s social, emotional, and intellectual growth. With What About Us?, you will discover how to achieve the full potential of preK-2 classrooms through proven best practices aligned to the PLC at Work® process. Learn how to work in collaborative teams to determine essential standards, design assessments, monitor student progress, and more.

Ensure every educator is engaged in the right work with a collective focus on improved student learning. Aligned to the Professional Learning Communities (PLC) at Work® model, this resource includes instructional coaching tools, processes, protocols, templates, tips, and strategies designed to support the multidimensional work of instructional coaches and PLC training. Each chapter includes action steps and reflective coaching activities, as well as suggestions for navigating some of the most common issues instructional coaches face.